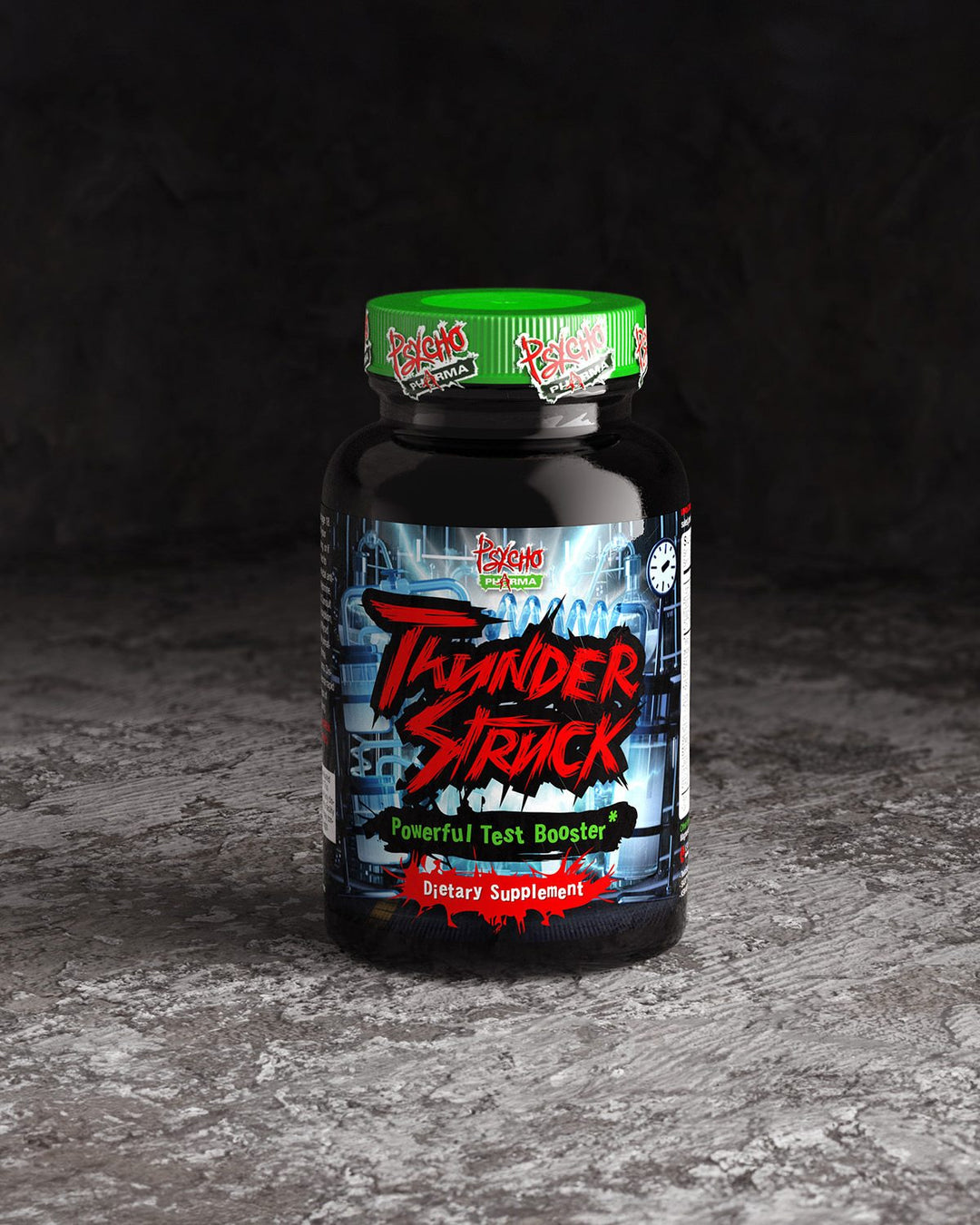 Benefits of ThunderStruck
🌩️ Elevated T Levels: Boost your body's natural T with the help of Testosurge, SA3X, and Eurycoma Longifolia.
💪 Boost Muscle Growth & Athletic Performance: Benefit from Laxogenin's support in protein synthesis for muscle gain, Boron and Stinging Nettle for enhanced athleticism, and the surge of strength from the S7 ingredient increasing nitric oxide production.
❤️ Boosted Vitality: With potent aphrodisiacs like Testosurge and SA3X, combined with the rejuvenating properties of Shilajit and KSM-66 Ashwagandha, experience enhanced libido, youthful energy, and drive, making everyday tasks feel effortless.
🧘 Stress Relief, Reduced Body Fat & Water Retention: KSM-66 Ashwagandha lowers cortisol levels, alleviating stress and anxiety, while Acacetin controls cortisol, aiding in reducing body fat and unnecessary water retention.
🌿 Natural Aromatase Inhibition: Diindolylmethane (DIM) and Acacetin keep E
levels in check, ensuring that T thrives.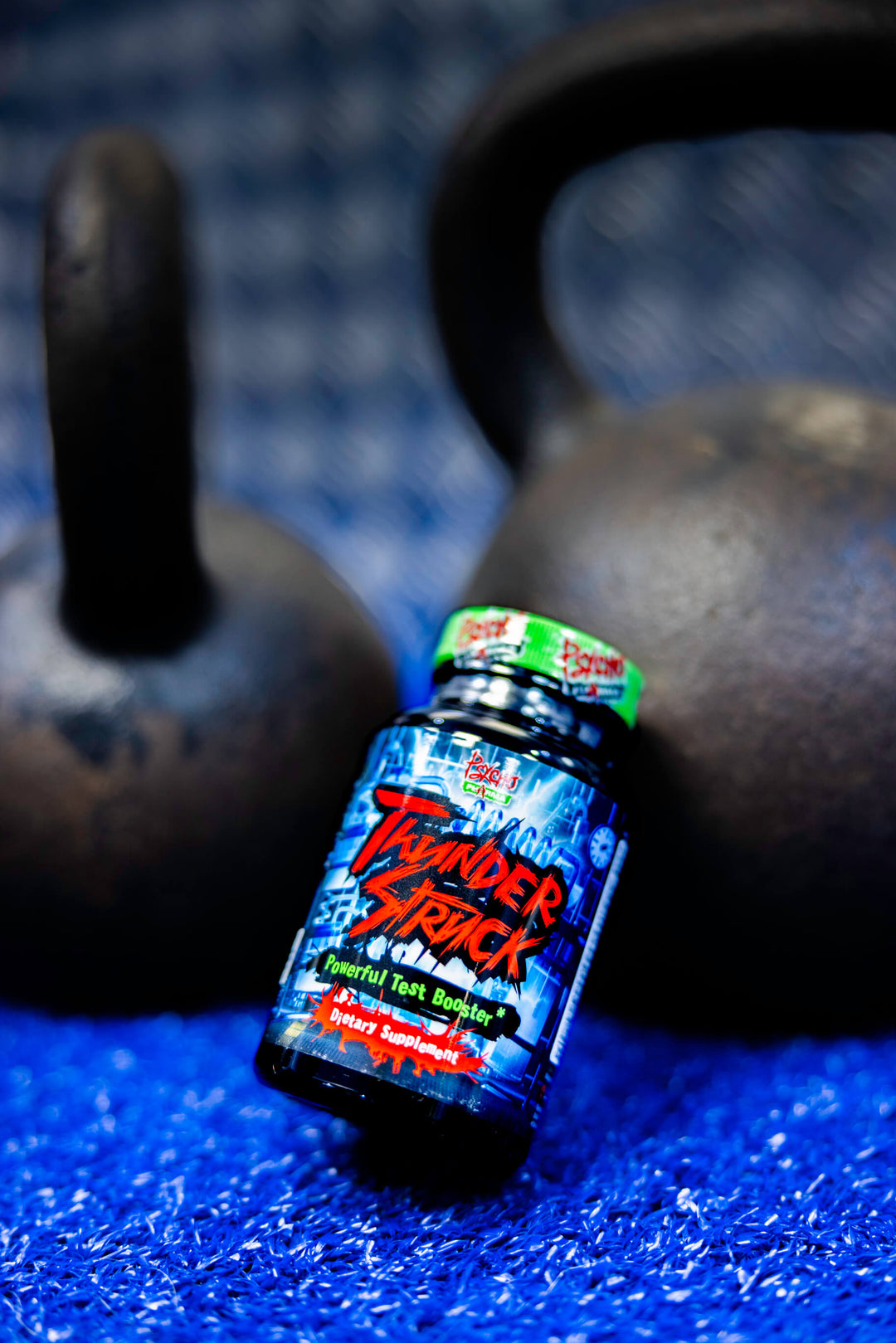 With a dosage of 125mcg / 5000 IU, this vitamin has been shown to boost testosterone and mood. Just like other ingredients, deficiencies are common.
Contained at 25mg in the form of Calcium Pantothenate, Vitamin B5 has been shown to reduce mental fog, enhance memory, clear up skin, and improve stamina.
Contained at a dosage of 160mg, Magnesium is as vital as Zinc for testosterone production. Lost through sweat, it's essential for avid athletes and bodybuilders.
At 20mg, this dietary mineral is crucial for testosterone production.
At a dose of 500mg, this patent-pending ingredient helps boost your body's natural T levels.
At 400mg, this trademarked and highly concentrated version of Spilanthes Acmella Extract was traditionally thought to relieve toothache pain but has been used as a potent natural aphrodisiac and testosterone booster.
This form of Ashwagandha with high purity has been shown to lower Cortisol and boost testosterone, helping increase muscle size and strength, and additionally, it lowers stress, anxiety, and depression in the mental health department.
With 200mg, this ingredient reduces inflammation and prevents the conversion of testosterone into dihydrotestosterone, helping prevent hair loss and reduce prostate size.
Contained at 250mg as Longjack Extract, this shrub offers improvements in testosterone levels, muscle-building, fat-burning, stress reduction, and has anti-estrogen effects.
At a dosage of 240mg, Shilajit is a sticky substance primarily found in the Himalayas' rocks. Developed over centuries from plant decomposition, it's an effective and safe supplement for overall health and well-being.
With dosages of 100mg and 10mg respectively, this dietary mineral aids in athletic performance due to its effects on testosterone levels in men.
Contained at 100mg, DIM decreases aromatase expression, promoting higher testosterone levels by reducing the amount converted to estrogen.
At 75mg, Acacetin is the most powerful legal, natural aromatase inhibitor known. It's also excellent at controlling cortisol, helping reduce body fat and water retention, and aiding in muscle growth and fat reduction.